CS is a social platform aggregating diverse mediums of content, experts and practitioners, online and offline events and complimentary products & services addressing the illusionary disconnect between alternative and mainstream life.
CS focuses on bridging the knowledge gap between ancient esoteric wisdom and modern scientific discovery.
Our mission
Our mission is to bring to the forefront this ever-expanding knowledge base from its currently limited audience to the greater masses. This exposure will lead to a phenomenon of learning, self-development and engagement that can greatly benefit our world through enhancing and transcending our current mental, physical and spiritual way of living.
CS's ultimate vision is to help enhance life across all levels of human existences: Individual, Family, Society, Humanity, Earth, Universe and the Divine.
To assist those who drive the convergence from a limited exposure and growth to successful mainstream entrepreneurialism.
We tried to build the bridge between the ancient wisdom and the modern world discoveries; between science and esoterica; between logic and magic by structuring a quantum amount of knowledge, discoveries and believes.
Core Spirit's Mission is to help others to find their path to personal freedom.
Audience encompasses several types of users
Practitioners who are working within the niche and who require to grow their services and/or products as well as to expand their professional network and to expedite their personal growth.
Organizations which are looking for a trusted vendor with a deep marketing and domain expertise, who can help them to grow their business and to build their reputation in a global marketplace. All the verified organizations are joining the largest platform at the interface of science and esoterica.
Users who are enthusiastic about the topics the niche covers. They are the main consumers of the content (articles, reviews, posts, videos), and the end-customers of the professional users featured on the platform. Lay users should be able to book services (treatments, courses, classes, talks, etc.), and purchase items from the eCommerce shop.
Experiences for Users
READ: articles, blogs, news, reference, reviews
WATCH: video content
LISTEN: podcast content
BOOK: practitioner services (consultation, treatments, sessions, classes, etc.) and events (talks, courses, workshops, etc.)
BUY: niche products (e.g. books, paid video content, supplements, remedies, accessories, tools, equipment, etc.) on Core Spirit marketplace
Experiences for Practitioners
GROW: Training Management System for professional growth and development
PLACE SERVICES: add your services to the platform for users to book appointments (offline or online, private or public)
ORGANIZE EVENTS: holding a conference or a webinar? Let people know about it and register right away
SELL GOODS: Core Spirit marketplace is where anything needed for the practice can be sold
IMPROVE QUALIFICATION: Get invaluable experience and learn from luminaries in your field
SOCIALIZE: find likeminded people, communities, organizations
Experiences for Organizations
BRING YOUR MISSION TO THE INTERESTED REPLENISH YOUR RANKS: you can invite qualified practitioners to join your organization
ORGANIZE EVENTS: holding a conference or a webinar? Let people know about it and register right away
FIND CLIENTS FOR YOUR MEMBERS: List your members' services to get their calendars booked
EDUCATE YOUR MEMBERS: share experiences with fellow organizations and learn from the best
Wisdom Three - Largest Library
Core Spirit is the largest library of ancient wisdom and esoteric knowledge created to help us to deal with different aspects of our lives:
SELF: To change the world around, it is necessary to start with yourself. You want to be beautiful, strong, smart, kind? You are all those things. Unleash your potential, enhance your own self and become a better, healthier and happier person by enriching your body, your mind and your spirit.
FAMILY: Family is the most important unit of every society. The purpose of family is to maintain a well-being of its members. It takes effort to keep the bond of this unit but in return it provides safety, loyalty and endless love. Enhance your family life and build healthy relationships with your closest ones.
SOCIETY: Society is a community with important values, such as empathy, honesty and mutual respect. It needs to be constantly built and nurtured. Only then we live in the environment where we can pursue our dreams. Acquire all necessary skills and build healthy and meaningful relationships in your life.
HUMANITY: Humanity is the human race, which includes everyone on Earth. We are defined by the qualities such as kindness, compassion and social intelligence. The rest of the world depends on our ethics and our altruism. Let's become better as separate units and ultimately as the whole.
EARTH: Earth is a place where we live and thrive and it is our mission to make the planet a friendly environment for all the creatures that inhabit it. By helping the nature around us through recycling, cleaning the ocean and fighting the global warming, we help the Earth and all its inhabitants.
UNIVERSE: Some call the Universe a Face of God. By studying the universal laws, it's matter, space, time, dimensions we are opening our life's to new possibilities. Let's discover the mystery of the Universe together and align our own evolution with the evolution or everything that surrounds us.
DIVINE: Divinity is the state of things that are believed to come from a supernatural power or deity, such as God, the supreme being, creator deity, or spirits, and are therefore regarded as sacred and holy. To get closer to the divine might help us to find our source of existence and a true meaning of life.
Global Community
Core Spirit is the Collaborative Global Community for anybody who finds their purpose in helping others and this community combines tens of thousands of practitioners and the largest database of luminaries:
Physical Enhancement: Holistic Healers and Complimentary Therapists
Emotional Enhancement: Leadership Coaches and Psychologists
Ethical Enhancement: Social Artists and Cultural Innovators
Energetic Enhancement: Energy Healers and Divine Power Healers
Spiritual Enhancement: Mystical Visionaries and Spiritual Leaders
Mental Enhancement: Scientific Luminaries and Cognitive Enhancement Innovators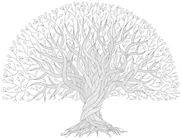 Core Spirit Wisdom Tree
The whole Wisdom Tree is divided into sections