About Kurt Douglas Trevallion (Dakshina)
I follow my heart and it leads me where it needs me... and it led me to you.
The eternal truth is... I only want to feel good.
I want to share my lightness of being with others whom cross my path.
I want to complete what I call the Circuit of Life within myself and others by turning on the light.
I call this path and practice - Holistic Soul Healing.
So, everyday I practice the way with Deep Energy Meditation.
My lightness of being yearns to be present, to speak, to teach, and to share what I call - The Philosophy of Feeling Good.
I went through a profound spiritual awakening on May 3rd 2009.
I am passionate about assisting others to embark on a journey of joyful spiritual awakening and alignment with eternal Self, Spirit and Source Energy.
I guide people to discover the wisdom of their own eternal true nature of being.
I mentor others seeking ways to feel good, find peace, joy, and self-empowerment.
I love exploring life-realization, self-actualization, self-discovery, self-empowerment and self-love.
I share paths, practices, perspectives and methodologies from my heart light including - Holistic Soul-Healing, The Philosophy of Feeling Good, Deep Energy Meditation, Life-Realization Mastery, and High Frequency Foods for Ascension.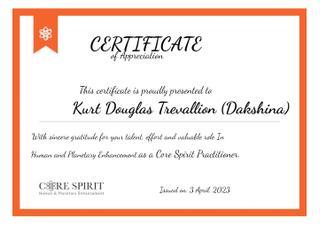 Kurt Douglas Trevallion (Dakshina) doesn't have reviews yet.
Click the button below to leave the first one!