Mediterranean Zucchini Noodles with Goat Cheese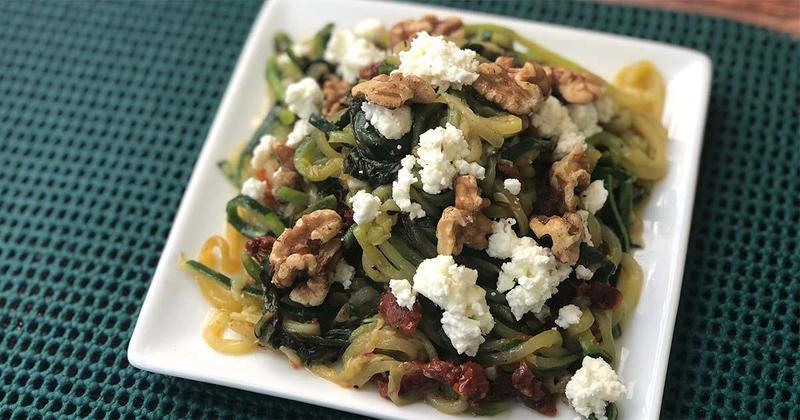 Need a new idea for zoodles? Try Mediterranean Zucchini Noodles with Goat Cheese plus spinach, walnuts, and sun-dried tomatoes. It makes a great side dish or light lunch.
Zucchini season is winding down and I've been taking full advantage of it. We've made Roasted Zucchini Fries with Parmesan, Zucchini Roll-Ups with Goat Cheese and Peppers, and we've topped sautéed zoodles with pasta sauce and some of these chicken and turkey sausage meatballs for a quick dinner. Yum.
When I found a jar of sun-dried tomatoes in the pantry and some goat cheese in the refrigerator, I came up with Mediterranean Zucchini Noodles with Goat Cheese. I had read a similar recipe elsewhere that inspired me, but couldn't find it when I wanted it (of course). I'm sure now it will appear.
The sun-dried tomatoes really make this dish by adding sweetness. The goat cheese lends creaminess and a bit of tang. The noodles make a great dinner side or a light lunch that travels well.
No spiralizer? Many grocery stores sell zucchini already cut into noodles. If yours doesn't, check out Taste of Home's instructions for making them with a vegetable peeler, knife, or grater.
Other Zucchini Noodle Recipes
Like the whole zoodle idea? Try these other ideas: